Shop Our Incontinence Products Online
NEW! Now you can shop and buy our complete line of protective undergarments and sanitary products in our Amazon store for fast, discreet delivery to your door.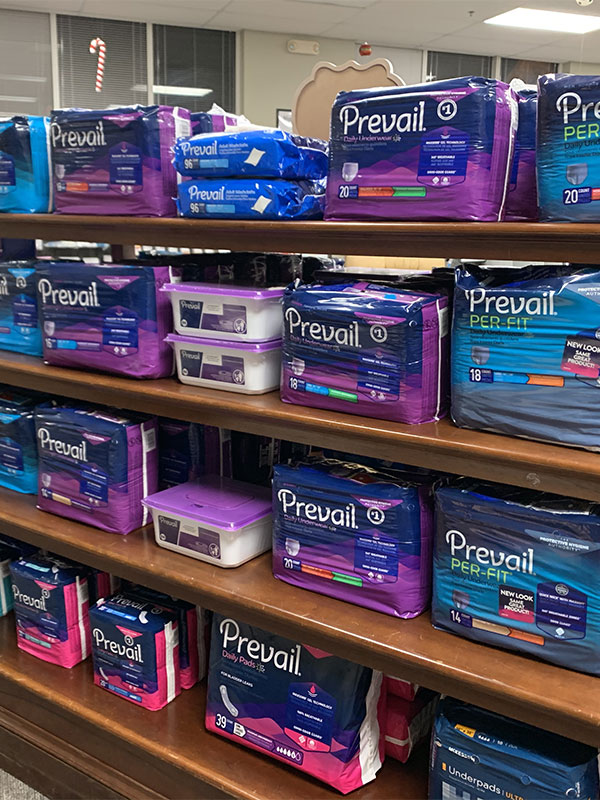 IMed Equip offers a wide selection of adult & pediatric incontinence products to suit your unique needs. Our product mix includes pull-on and brief style undergarments as well as washable and disposable underpads.
For individuals who need maximum protection, briefs are super absorbent and generally provide more coverage than protective underwear. Suitable for heavy to severe incontinence and for overnight protection, briefs are especially appropriate for those who are sedentary or need help getting to the bathroom. Since briefs are fastened on the sides with adhesive tabs, they can be easily changed while sitting or lying down and without having to completely remove clothing.
Briefs & Pads
When it comes to leaks, from light to heavy needs, we can help. We have the experience and the product line to get you through your day with confidence. Prevail brand protective underwear is the perfect choice for active individuals who want more protection than a pad. Pulled up and worn under clothing like regular underwear, protective underwear is slim-fitting, comfortable and discreet – providing confidence and security for those with moderate to heavy incontinence.
Male Guards

Incontinence affects men of all ages too. One of the main causes of urinary incontinence in men is benign or malignant prostate diseases and their treatment. Age is also a concern as the prostate also gets larger. Often times, this is not an issue; however, an enlarged prostate can impede the functioning of the urethra, resulting in control issues such as urine dribbling, increased urgency, and flow problems. Our experts will help you find the right product for on your degree of control, the frequency and volume of your urinary incidents, and the comfort level you're seeking.
Underpads

Disposable and Reusable bed pads are another product that not only protects the skin from moisture, but also makes wheelchair transferring and bed rolling easier for caregivers. These disposable or machine-washable pads feature different levels of absorbency and protection against leakage.
Wipes/Gloves
Barrier Creams & Peri-Wash
3750 W Robinson
in Norman

Great store. It is smaller and more intimate with the same product the bigger stores have. Their pricing is in line with the others and in MOST cases lower than the others. Great staff. Strongly recommend them.

Great place to get medical supplies & equipment. They have amazing customer service! They had exactly what I needed, their prices were better than anyone else and the facility is very neat and clean! Thank you Imed-Equip!