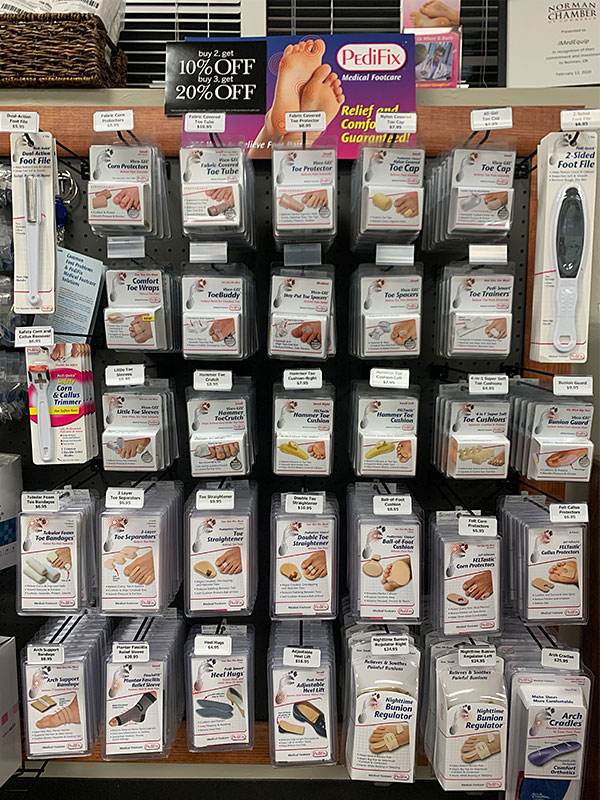 Proper footcare is essential, with diabetic conditions and everyday activities. The daily wear and tear your feet experience can be painful if not properly addressed. IMed Equip carries the complete line of premium footcare products by Pedifix.
For over 130 years, Pedifix has been listening to our customers' needs, enlisting the help of doctors and utilizing the latest technologies to develop unique and innovative footcare items. Our high-performance solutions have helped millions of people ease pain, prevent future problems, wear shoes more comfortably and make their feet more attractive.
Note: Pedifix offers a money-back guarantee.
IMed Equip can address and treat the following aliments:
Arch Pain/Flat Feet
Ball-of-Foot Pain
Bunions
Calluses
Corns
Crooked Toes
Hammer Toes
Foot Fungus
Foot Odor
Heel Pain
Nail Fungus
Neuroma
Pump Bump
Tired Feet
Warts
3750 W Robinson
in Norman

Great store. It is smaller and more intimate with the same product the bigger stores have. Their pricing is in line with the others and in MOST cases lower than the others. Great staff. Strongly recommend them.

Great place to get medical supplies & equipment. They have amazing customer service! They had exactly what I needed, their prices were better than anyone else and the facility is very neat and clean! Thank you Imed-Equip!